Chat with us: rendez-vous avec une cadre de direction d'Optonique – le Pôle d'excellence en photonique du Québec
Are you wondering what to do after your master's, doctorate, or postdoctoral fellowship?
Want to learn about science careers outside of academia?
The Society for Canadian Women in Science and Technology – Quebec (SCWIST – Quebec) invites you to hear the experiences and perspectives of Dr. Madison Rilling, an Executive Officer at Optonique.
Join us for a live chat on Thursday, October 12th, at 12:00 pm EDT (Montreal time) for the next edition of the Chat with Us series – "Ins and Outs" of science jobs outside academia. We will have a great opportunity to learn the Ins and Outs of scientific positions at non-profits.
Various topics will be discussed, such as:
The role of an Executive Officer at Optonique
Madison's career path
Accessibility and impacts in science & technology
We strongly encourage you to interact with our speaker and to ask questions during the event.
______________________________________________________________________________
Vous vous demandez quoi faire après votre maîtrise, doctorat ou stage postdoctoral?
Vous voulez en savoir plus sur les carrières scientifiques en dehors du milieu universitaire?
La Société des Canadiennes en Science et Technologie – Québec (SCWIST – Québec) vous invite à entendre les expériences et les perspectives du Dr Madison Rilling, une dirigeante chez Optonique.
Joignez-vous à nous pour un chat en direct le jeudi 12 octobre à 12h00 EDT (heure de Montréal) pour la prochaine édition de la série Chat with Us – "Ins and Outs" des emplois scientifiques à l'extérieur du milieu universitaire. Nous aurons une excellente occasion d'apprendre les tenants et les aboutissants des postes scientifiques dans les organismes à but non lucratif.
Divers sujets seront abordés, tels que :
Le rôle d'un dirigeant chez Optonique
Le parcours professionnel de Madison
Accessibilité et impacts en science et technologie
Nous vous encourageons fortement à interagir avec notre conférencier et à poser des questions pendant l'événement.
________________________________________________________________________________
SPEAKER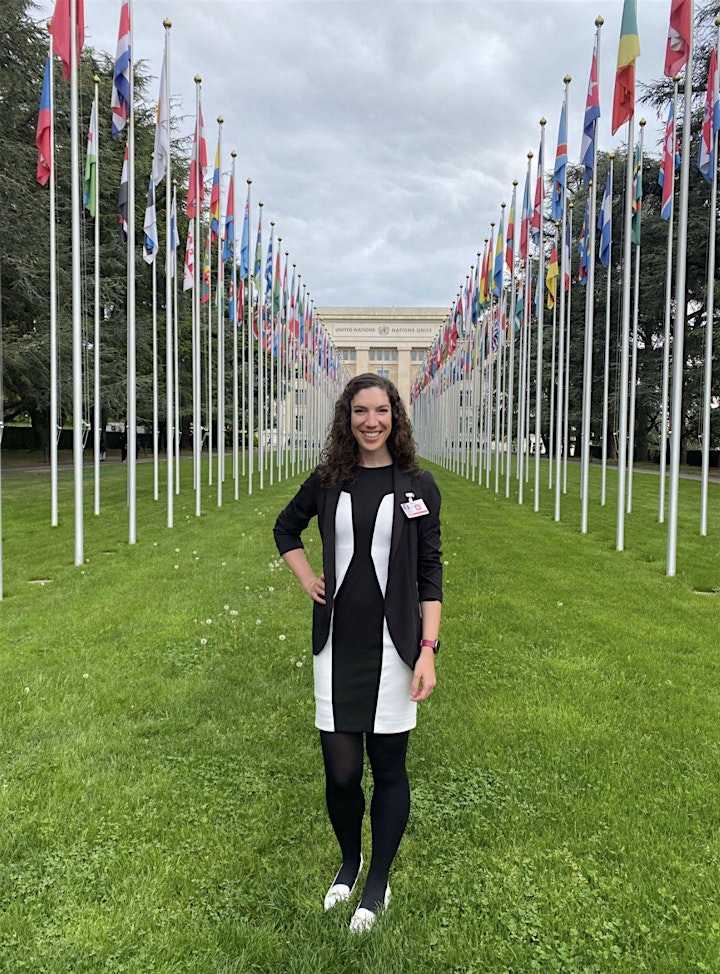 Dr. Madison Rilling is Executive Director of Optonique, a non-profit dedicated to growing Québec's and Canada's photonics community and leveraging the enabling capabilities of light-based technologies. In her role, she serves as a knowledge-broker between industry, academia and government, being involved in innovation, trade and workforce policy development, as well as diplomatic efforts at both the provincial and federal levels.
Madison holds a Joint Honours in Math and Physics (McGill University, 2014), Master's in Medical Physics (ULaval, 2016) and a PhD in Physics (ULaval, 2020), after which she worked as a clinical medical physicist in radiation oncology. She was a student advisor to Québec's Chief Scientist (2016-2019) and a member of Canada's Chief Science Advisor's inaugural Youth Council (2020-2023), acting as a strong advocate at the science-policy interface for the next generation of scientists.
As an Action Canada Fellow and 2021 Optica Pivoting Fellow, Madison is committed to building bridges between science & society, namely through public policy. She contributes her expertise as board member, mentor, and volunteer within local and international scientific and policy-focused organizations. Over the years, Madison co-led several initiatives for girls and women in STEM within her community as well as creative science outreach projects like La Terrasse Optique. Born and raised in Québec City, Madison loves to be outdoors – either (ultra)trail running, playing beach volleyball, or cycling.
Madison est directrice générale d'Optonique, une organisation à but non lucratif dédiée au développement de la communauté photonique québécoise et canadienne ainsi qu'à la promotion des capacités habilitantes des technologies basées sur la lumière. Elle agit à l'interface des milieux industriel, académique et gouvernemental, participant à l'élaboration de politiques en matière d'innovation, de commerce et de main-d'œuvre, ainsi qu'à des efforts diplomatiques aux niveaux provincial et fédéral.
Madison est titulaire d'un double baccalauréat en mathématiques et physique (Université McGill, 2014), d'une maîtrise en physique médicale (ULaval, 2016) et d'un doctorat en physique (ULaval, 2020), après quoi elle a travaillé comme physicienne médicale clinique en radio-oncologie. Elle a été conseillère étudiante du Scientifique en chef du Québec (2016-2019) et membre du premier conseil-jeunesse de la conseillère scientifique en chef du Canada (2020-2023), agissant comme porte-voix de la relève scientifique à l'interface science et politique.
En tant que Fellow d'Action Canada et Pivoting Fellow d'Optica, Madison poursuit son engagement à bâtir des ponts entre la science et la société. Elle contribue son expertise en tant que membre de conseil d'administration, mentore et bénévole dévouée au sein d'organisations locales et internationales. Au fil des ans, Madison a codirigé plusieurs initiatives pour les filles et les femmes en STIM, ainsi que des projets créatifs de vulgarisation scientifique comme La Terrasse Optique. Originaire de Québec, Madison adore le plein air, particulièrement la course (ultra)trail, le volleyball de plage et le vélo.
Photo and Video Consent
By registering for the event, you understand that the session may be video recorded and/ or photos will be taken for use in SCWIST digital communication platforms, including but not limited to the SCWIST website, e-newsletter, Twitter, Facebook, Instagram, YouTube, and others. You therefore are providing consent for your image and voice to be used by SCWIST for free and in perpetuity.
If you do not want your image to be captured in video or photographically, please ensure that your camera is off during the session.
Questions and Feedback
For questions about the event, or to sign up as a speaker, please contact the Communications and Events team, by email at marketing_events@scwist.ca.